The E-Hustle: What the Country's Best Digital Leaders Can Teach You About Launching and Growing Your Online Business
Regular price
₱640.00 PHP
Regular price
Sale price
₱640.00 PHP
Unit price
per
Sale
Sold out
Product Description:
For many Filipinos, online business seemed like a novel idea. And then the COVID-19 pandemic happened. Now that e-commerce is driving the local economy, thousands of new Internet entrepreneurs are wondering where to start. The E-Hustle shows the way forward, taking a deep look into the vast ecosystem of Philippine e-commerce.
Learn how its top players used different tools and technologies—from digital payments to live streaming—to carve out success. Learn the business secrets of the Philippines' biggest online companies, and discover the best strategies for establishing a digital store, building a supply chain on a mobile device, and making the most out of social media marketing. Grab a copy of The E-Hustle, your all-in-one guide to all things e-commerce.
Featured leaders:
Steve Sy - Founder and CEO of Great Deals E-Commerce Corporation
Charles Ryan Sy - President of Dropify
Dannah Majarocon - Managing Director of Lalamove PH
Martha Sazon - President and CEO of GCash
Dino Araneta - Founder and CEO of Quad X
Martin Yu - Director of Shopee Philippines
Nina Ellaine Dizon-Cabrera - CEO of Colourette Cosmetics
Kim Lato - CEO of Kimstore
Ben Wintle - Founder and CEO of Booky
Ace Gapuz - CEO of Blogapalooza
Hiyasmin Neri-Soyao - Co-Founder and CEO of Shoppertainment LIVE
Francis Plaza - Co-Founder CEO of PayMongo
Mario Domingo - Founder of Neural Mechanics Inc. and DARC Labs
Agnes Gervacio - CEO of MDI Novare
Zen Han - Vice President for National Sales of OPPO
Stefano Fazzini - Co-Founder and CEO of MetroMart
Michael McCullough - Founder of KMC Solutions
This book will be published in September 2021.
___________________________________________________

In addition to the core editorial team, "The E-Hustle" was also made possible through Writers Mio Borromeo, Monica Padillo, Pancho Dizon; Managing Editor Ada Ortega; Deputy Editorial Director Kyle Nate; Cover Artist Katrina Dela Cruz; Layout Artist Josephine Daluz; Foreword by Ernest Cu; and Afterword by Sen. Risa Hontiveros
Shipping

For any rush orders, we can ship via courier at the buyer's cost. Please email us at hello@bookshelf for special arrangements.

Metro Manila 

We process orders within 1 day of receipt, and ship from Makati, Metro Manila via Gogo Express. Orders are usually received within three days. 

The delivery fee for all orders within Metro Manila is P80.

Outside Metro Manila 

We process orders within 1 day of receipt, and ship from Makati, Metro Manila via Gogo Express. Orders are usually received within five to seven days.

The delivery fee are as follows:
     Luzon (Outside Metro Manila): P140
     Visayas: P160
     Mindanao: P180

International 

We process orders within 1 day of receipt, and ship from Makati, Manila via UPS, LBC, or DHL. Orders are usually received within five to seven days. 

The delivery fee are as follows:
     Singapore and Hong Kong: P1,500
     USA and Canada: P2,400

For all other locations, please send us an email at hello@bookshelf.com with the book title and shipping destination so we can give you the shipping rates.
Returns and exchanges

First, if you are considering a return or an exchange, you ordered a book from us. We would like to extend you a "thank you!" Nothing makes us happier than seeing more people read great books in the Philippines, and we will do everything in our power to give you the best customer care possible.

If you have any issues with your book or books within the first thirty days (for any reason!), please drop us a line at hello@bookshelf.com. We will take care of you. That's why it's called customer care, right? If an exchange for the same item you purchased is not possible, we will offer you store credit. If you do not prefer store credit, we can also issue you a full refund, the processing of which will depend on your payment provider. Long story short: We will stop at nothing to make you happy. The world needs more happy readers!
Share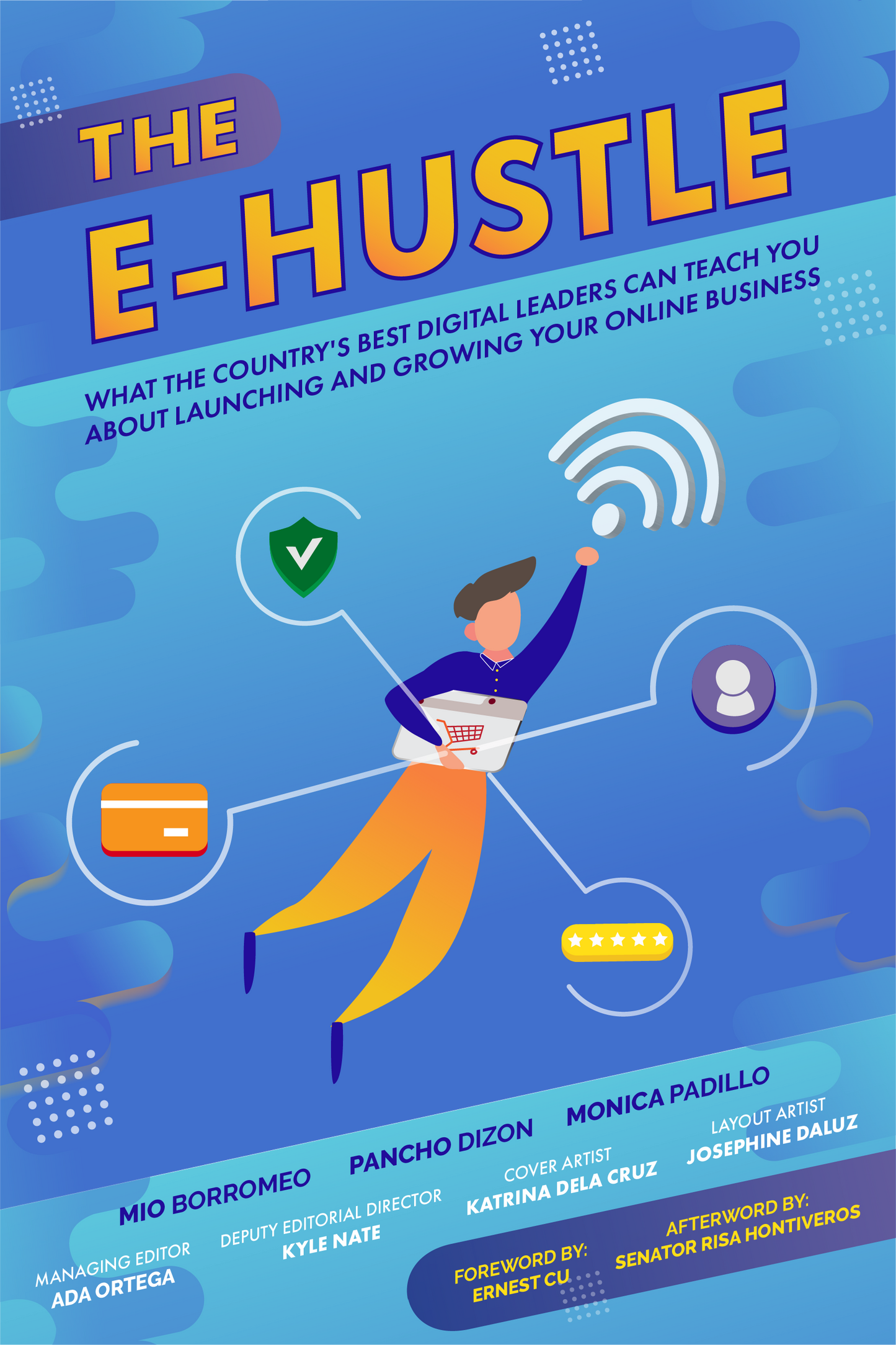 Overwhelmed? Not anymore!!
I always thought starting an e-commerce business would be too late. But the CEOs argue it's only just growing — even in the Philippines. Happy for my myths to be busted. E-commerce is so broad and the possibilities are endless. This was the introduction i needed to the world of e-commerce and getting started in the Philippines. But the best part for me is seeing the journey of the CEOs in building their empires 😁
Guide to success
Great insights by groundbreaking professionals in the e-commerce industry. For entrepreneurs who are seeking to successfully find their footing in the online landscape, the book is truly for them. The E-Hustle does not disappoint.
Everything I needed to know in one book!
So glad I picked this up as recommended by a friend. Starting a business is never easy and it's difficult to get a whole picture by watching businesses one-by-one on how they've been able to start. Highly recommend this for anyone else looking into venturing into e-commerce, especially here in the Philippines!
Helpful
Bought The E-Hustle last year. It was made by the quality of the interviewees. All are stand-outs in the ecommerce field, or in the specific domain expertise they were featured for. I would recommend The E-Hustle for anyone, be they beginners or experts, who wants to learn more about ecommerce in the Philippines.