Sharing my Light & Healing Energy: Journey to True Self
Regular price
₱599.00 PHP
Regular price
₱749.00 PHP
Sale price
₱599.00 PHP
Unit price
per
Sale
Sold out
I wanted to share my journey through self-discovery. Everyone has their own story to tell and their own pace of growth. I just wanted to show that it's possible for people to transform their lives on all levels! One can do so much with a change of mindset and finding a way past their own blocks. Everything fell into place once I started to pay more attention to the signs and synchronicities. Lucky me, I found a way to open up to my intuition, which led me to unlock, heal and reconnect to my inner child. Then I learned Reiki and how to work with the energy. It's all about one thing that opens up another and another...like a catalyst. I ended up transforming my own life, finding my life purpose and my authentic self. Everyone has the chance to create the life that they want if they move out of their comfort zone and work through their ego and fears. Who doesn't want a balanced and harmonious life? Use the wisdom I have shared and the reflection pages to find out how!
Shipping

For any rush orders, we can ship via courier at the buyer's cost. Please email us at hello@bookshelf for special arrangements.

Metro Manila 

We process orders within 1 day of receipt, and ship from Makati, Metro Manila via Gogo Express. Orders are usually received within three days. 

The delivery fee for all orders within Metro Manila is P80.

Outside Metro Manila 

We process orders within 1 day of receipt, and ship from Makati, Metro Manila via Gogo Express. Orders are usually received within five to seven days.

The delivery fee are as follows:
     Luzon (Outside Metro Manila): P140
     Visayas: P160
     Mindanao: P180

International 

We process orders within 1 day of receipt, and ship from Makati, Manila via UPS, LBC, or DHL. Orders are usually received within five to seven days. 

The delivery fee are as follows:
     Singapore and Hong Kong: P1,500
     USA and Canada: P2,400

For all other locations, please send us an email at hello@bookshelf.com with the book title and shipping destination so we can give you the shipping rates.
Returns and exchanges

First, if you are considering a return or an exchange, you ordered a book from us. We would like to extend you a "thank you!" Nothing makes us happier than seeing more people read great books in the Philippines, and we will do everything in our power to give you the best customer care possible.

If you have any issues with your book or books within the first thirty days (for any reason!), please drop us a line at hello@bookshelf.com. We will take care of you. That's why it's called customer care, right? If an exchange for the same item you purchased is not possible, we will offer you store credit. If you do not prefer store credit, we can also issue you a full refund, the processing of which will depend on your payment provider. Long story short: We will stop at nothing to make you happy. The world needs more happy readers!
Share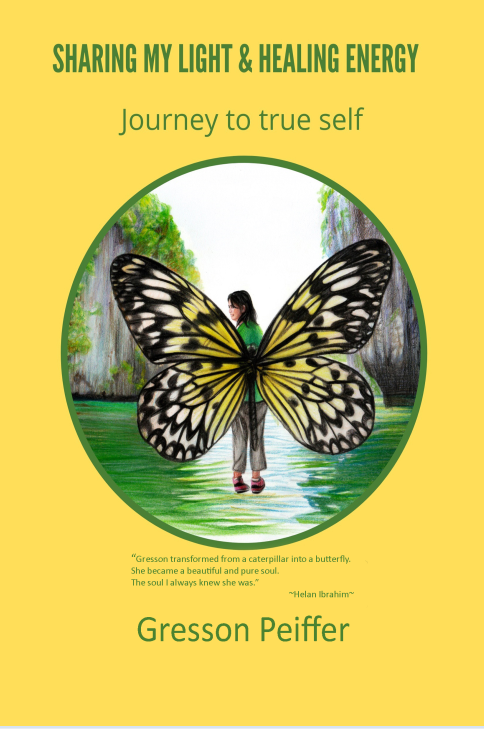 an Honest Chronicle and Valuable Guide to Healing Oneself
This book was written with so much openness and passion, I loved it! No holds barred on this one, it was an easy read and I totally connect with it.
I am only halfway through it, but already gaining a lot of beneficial insights into Gresson's story, and how her healing methods and strategies may help myself as well.
I especially love the exercises that she provides at the end of each chapter, and makes me want to delve into my own experiences, and apply her advice especially around meditation.
Overall, I highly recommend this book for those who are on a similar path, or wanting to understand someone else's journey.
A unique guide to meaning, spirituality and symbolism
It was a great pleasure to read such a deep and inspiring journey of the "Self" in a world of superficial and aimless events and stories. Gresson Peiffer has gone through so much, but she has always found her path to take things in the most positive and constructive way.
Gresson is a rare human being being these days; a rare author who grabs you with her own vulnerable story in a matter of seconds. The flow of her book immerses you in the eerie realm of philosophy, spirituality, mythology and symbolism, and you go deeper and deeper like Alice in Wonderland as you turn the pages.
Sharing My Light & Healing Energy is not just a personal story shared well; it's a manual for the right way of living. It's a guidebook with a real healing power, a practical approach to spirituality, soul healing and more.
I am blessed to make my acquaintance with Gresson and to share so many commonalities and synchronicities. It was indeed a refreshing thing to see that both of our debut books share the same 'spirit', the same 'light' that got us inspired individually.
It turned out that my book Awakening ignited is almost like a twin of Sharing my light & healing energy, only spoken from another perspective, with other words, but with the same positive and healing tone.
Our books & inspirations brought us together and I can't be happier to recommend MY FRIEND's book Sharing my light & healing energy, as it is food for the soul: something that all of us need more than we realise these days.
With much love,
R.P. Heaven
Published author