eBook - Planting Greatness: Organizations Accelerating Social Impact in the Philippines
Regular price
₱400.00 PHP
Regular price
Sale price
₱400.00 PHP
Unit price
per
Sale
Sold out
Planting Greatness: Organizations Accelerating Social Impact in the Philippines
Written by Mio Borromeo, Pancho Dizon, and Monica Padillo; edited by Kyle Nate; illustrated by Josephine Daluz; foreword by Gawad Kalinga Chairman Jose Luis Oquiñena; afterword by veteran journalist and Wish Ko Lang! host Vicky Morales 
The daily news cycle tends to be filled with negative stories of crime, poverty, accidents, disasters, and other tragedies. While the Philippines has no shortage of challenges, there are just as many change-makers focused on solving them for the better. This book collates the stories of various change-makers, including corporate executives focused on CSR, social entrepreneurs, and non-profit leaders, dedicated to uplifting the nation.

This book is a must-read for anyone who wants a better Philippines, including leaders who want to learn best practices from their peers and aspiring change-makers looking for inspiration for their own unique mission.
In keeping with the book's theme, a portion of proceeds from the book launch will fund mobile libraries through a partnership with GK's Maleta Library program. 
Featured leaders: 
Darwin Flores, Former VP for Community Partnerships of Smart Communications

Carlo P. Carlon, The Cyclelogist, Founder of Lend-A-Bike Project

Fritzie Ian De Vera, Vice President for Lasallian Mission of De La Salle University

Martha Rodriguez, CEO of Vesti Fashion

Maribeth Marasigan, President and Chief Operating Officer of Aboitiz Foundation 

Melody M. Del Rosario, VP for PR and Corporate Communications Metro Pacific Investments Corporation 

Ruel Maranan, President of Ayala Foundation

Benedicto C. Sison, Sun Life Philippines' CEO and Country Head and Sun Life Foundation's Chairman

Med Sali-Gelacio, HR Director of Q2 HR Solutions

Mylene Abiva, President and CEO of FELTA Multi-Media Inc. 

Paulina Ocampo, Country Head of One Million Lights 

Nina Ellaine Dizon-Cabrera, CEO of Colourette Cosmetics

Quennie Alquinto, CSR Head of Gardenia

Jeanill Migraso, Founder of Frontliners' Kitchen

Kat Diaz de Rivera, Community Relations Head of PLDT 

Angela Fabiola de Vera Regala, PhD, President of Assumption College San Lorenzo

Atty. Iris Baguilat, President of Döhle Seafront Crewing (Manila) Inc.  

Dr. Anton Mari Lim, Co-Founder of Yellow Boat of Hope Foundation 

Illac Diaz, Founder of Liter of Light

Neil Pariñas, Vice President for Lasallian Mission and Student Life of College of Saint Benilde

Ryan Gersava, Founder and CEO of Virtualahan

Grace David, CEO of Edukasyon.ph

Krie Reyes-Lopez, Founder and CEO of Messy Bessy

Ian Origenes, Founder of Our Little Ideas 

Marino Agbayani, Senior Vice President for Government Affairs and Special Projects of JG Summit Petrochemicals Group

Atticus King, Owner of Victoria Court AKG

Maria Yolanda C. Crisanto, SVP for Corporate Communications of Globe Telecom

Javier Villarruel, Managing Partner of Bayongciaga 

Sharon Jean Gonzales-Gulmatico, Founder of Morination Agricultural Products 

Ignacio C.O. Sison, Chief Corporate Officer of Del Monte 

Atty. Allan V. Barcena, Assistant Vice President and Head of Corporate Social Responsibility and Public Relations of Energy Development Corporation

Debbie Sy, Executive Director of SM Foundation Inc.
Pre-orders will be fulfilled December 2021. In addition to the core editorial team, Planting Greatness was also made possible through copyeditors Leanne Tria and Claude Russel Sastrillo; copywriter and copyeditor Veno Centeno; contributors Daphne Sagun, Rachel Rustria, Roselin Manawis, and Marcus Gawtee; and research assistants Louis Castillo, Allyza Nuñez, Nezel Temblor, and Tommy Seminiano. 

____________________________________________________
This is a Bookshelf PH eBook. Please enter the email you would like to receive the download link at during checkout. Once purchased, you can read it on any device of your choice (Mac, PC, iOS, or Android) via your personal account on Adobe Digital Editions, a free eBook reader app. To learn more about how you can conveniently read our eBooks, please refer to this quick guide.
Shipping

For any rush orders, we can ship via courier at the buyer's cost. Please email us at hello@bookshelf for special arrangements.

Metro Manila 

We process orders within 1 day of receipt, and ship from Makati, Metro Manila via Gogo Express. Orders are usually received within three days. 

The delivery fee for all orders within Metro Manila is P80.

Outside Metro Manila 

We process orders within 1 day of receipt, and ship from Makati, Metro Manila via Gogo Express. Orders are usually received within five to seven days.

The delivery fee are as follows:
     Luzon (Outside Metro Manila): P140
     Visayas: P160
     Mindanao: P180

International 

We process orders within 1 day of receipt, and ship from Makati, Manila via UPS, LBC, or DHL. Orders are usually received within five to seven days. 

The delivery fee are as follows:
     Singapore and Hong Kong: P1,500
     USA and Canada: P2,400

For all other locations, please send us an email at hello@bookshelf.com with the book title and shipping destination so we can give you the shipping rates.
Returns and exchanges

First, if you are considering a return or an exchange, you ordered a book from us. We would like to extend you a "thank you!" Nothing makes us happier than seeing more people read great books in the Philippines, and we will do everything in our power to give you the best customer care possible.

If you have any issues with your book or books within the first thirty days (for any reason!), please drop us a line at hello@bookshelf.com. We will take care of you. That's why it's called customer care, right? If an exchange for the same item you purchased is not possible, we will offer you store credit. If you do not prefer store credit, we can also issue you a full refund, the processing of which will depend on your payment provider. Long story short: We will stop at nothing to make you happy. The world needs more happy readers!
Share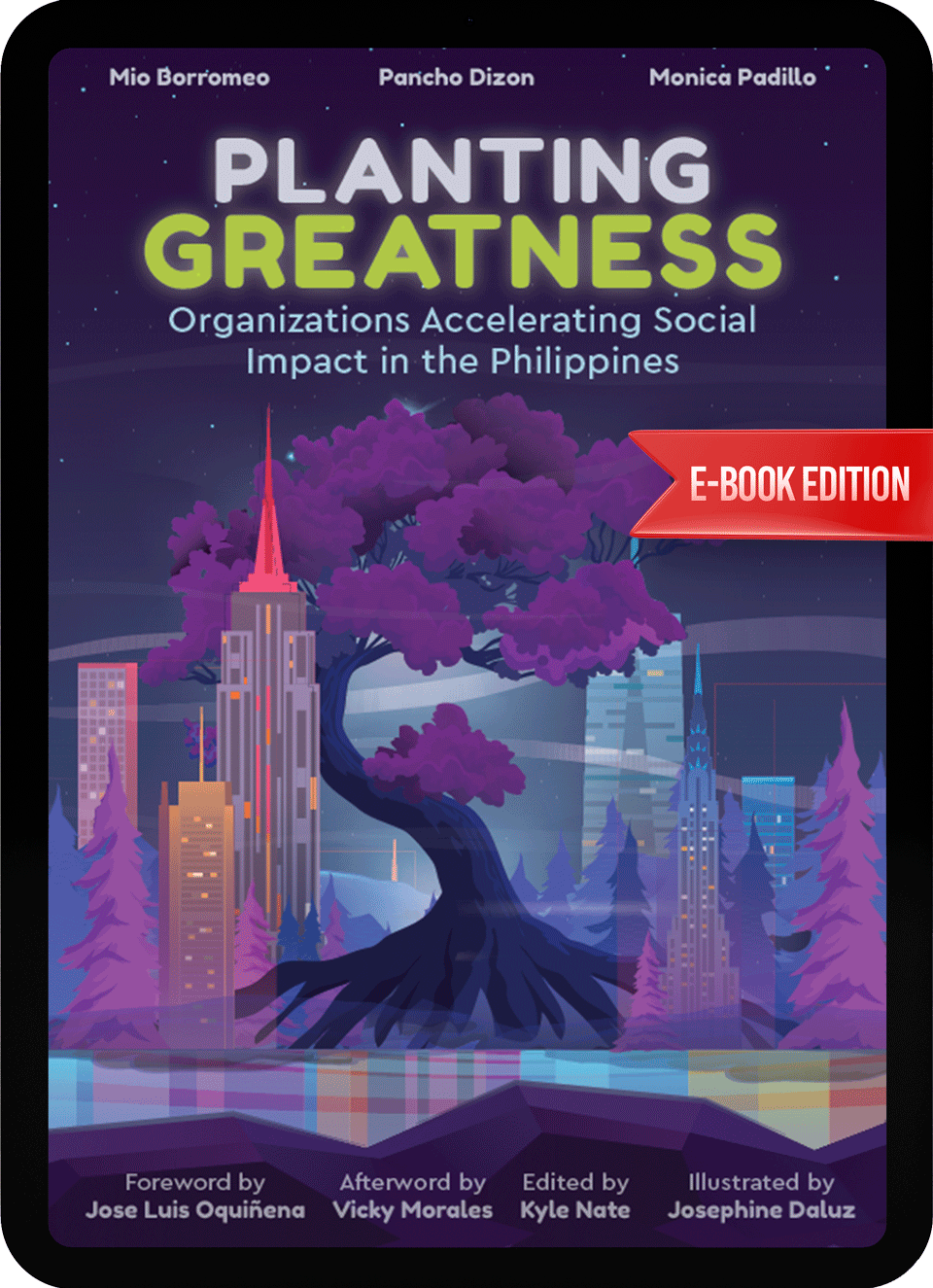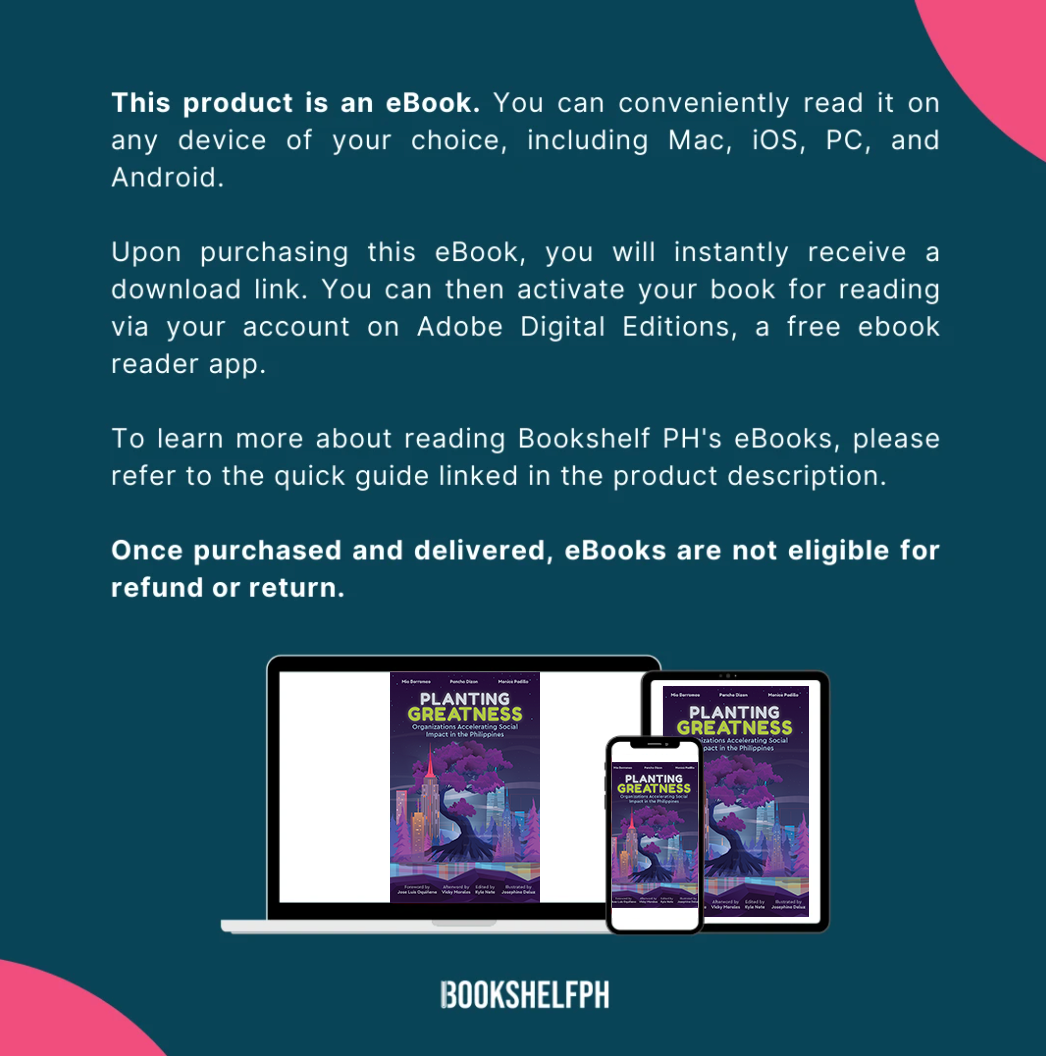 In this together
This book is a vote of confidence for the future. Amidst the gloom that seems to have permanently taken residence in our daily lives due to the pandemic, the stories of people who strive to make a difference and continue to despite difficult times inspire hope. Leadership today cannot be isolated from social responsibility and this exemplifies just why. Amazing stories, amazing people.